VISIT OF U.S. TEACHERS TO DEEPALAYA SCHOOL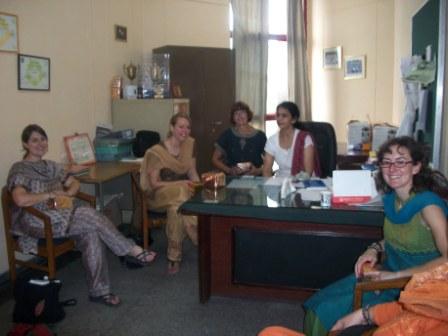 A group of 7 U.S. teachers visited Deepalaya School Kalkaji Extn. on 30th July 2010. The delegation was welcomed by the Principal, Ms. Anita Sawhney.
The objective of visit was to encourage and enhance mathematics, Arts and Science skills among the students and make it easy so that they can equally participate in class activities and filter their concepts of different subjects through practical approach.
Mr.David and Ms.Susan conducted lab activities by using A4 size paper as teaching tool, they demonstrated different geometrical shapes (by cutting
and folding it into different modes).
Students also did the same activities by following their instructions. They also demonstrated a unique way to recapitulate any topic by preparing study tool (folders) for each topic which has been taught and exchanging ideas by passing the folders among themselves.
Students enjoyed the whole session. They were quite energetic. It was a good methodology of teaching-learning process.